---
Hopi Tewa Large Polychrome Pottery Seed Jar with Upturned Rim by Mark Tahbo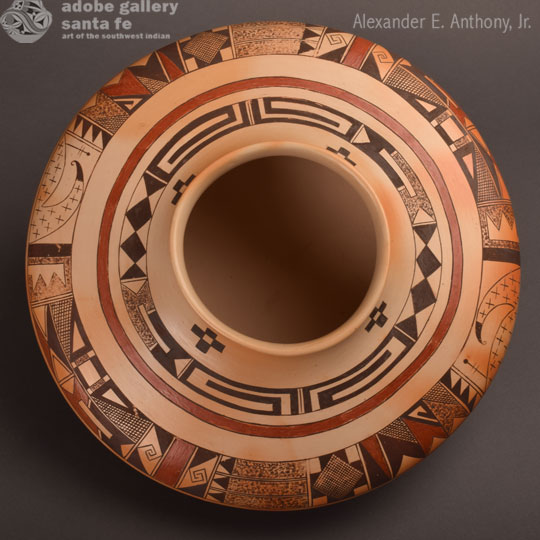 + Add to my watchlist

Forward to Friend
Mark Tahbo, a Hopi-Tewa potter, was considered by many to be one of the best of his era, and this large polychrome seed jar supports that suggestion. The jar, which dates to 1987, is impressive both in quality and size. It's a classic seed jar shape with an unusual twist: a rim that turns upward, extending about and inch and a half further than usual and creating a short neck. Tahbo was known for doing consistently great work with the shapes of his vessels; this one is particularly graceful and will excite collectors who appreciate unique variations of classic forms. It's a large piece, measuring about thirteen inches in diameter. Its color, too, is wonderful, varying between cream-colored to orange. The jar's upturned neck is mostly free of design work, save for four cross designs which are placed around the neck at equal intervals, symbolizing the four cardinal directions. Below these crosses is a brown design band, underneath (or around, depending on how one chooses to look at the jar) which is a thin band of red.

Further towards the jar's midsection, Tahbo made a wider design band. Within this band is an intricate array of geometric designs and carefully painted patterns. Some of these images are traditional Hopi, others are unrecognizable, all of them are beautiful. This area exemplifies what Tahbo was all about—seamlessly combining ancestral Hopi designs with ideas of his own creation. His jars are perfectly painted, carefully polished, undoubtedly contemporary pottery pieces that nod to the original creators through the replication or reinvention of their designs. Tahbo combined the old with the new, and he did so with a deep respect for tradition and a desire to innovate constantly. This particular piece leans more towards the traditional, and it's a wonderful example of Tahbo's incredible abilities.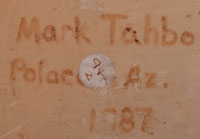 Mark Tahbo (1958-2017) was a Hopi-Tewa potter and a member of the Tobacco Clan. He began potting actively in 1978. Tahbo came from a long line of outstanding potters, the most famous of whom was his great-grandmother Grace Chapella. Grace Chapella, of course, is famous for living to 106 years and continuing to make pottery past her 100th birthday. His siblings were potters too. Tahbo made extremely thin-walled vessels and polished them to perfection. His designs were executed with remarkable precision. Because of his fine workmanship, he received numerous awards at the Heard Museum Annual Indian Fair and the annual Santa Fe Indian Market. In 1991, he won Overall Prize at Indian Market. In 1992 he was awarded Best of Division at the Heard Museum Indian Fair. Awards continued to be presented to him throughout the rest of his career. Mark passed away on December 22, 2017. He was a friend of Adobe Gallery. We enjoyed his frequent visits, the education he provided us, and the enthusiasm with which he shared his works. It is always a pleasure to be able to handle his pottery.

The jar is signed Mark Tahbo, Polacca Az. 1987.
---
Condition: good condition with a few small abrasions, none of which are significant or distracting in any way
Provenance: this Hopi-Tewa Large Polychrome Pottery Seed Jar with Upturned Rim by Mark Tahbo is from a private collection
Recommended Reading: HOPI AND HOPI-TEWA POTTERY - Published in Plateau, volume 49, Museum of Northern Arizona
Relative Links: Southwest Indian Pottery, Mark Tahbo, Contemporary Pottery, Grace Chapella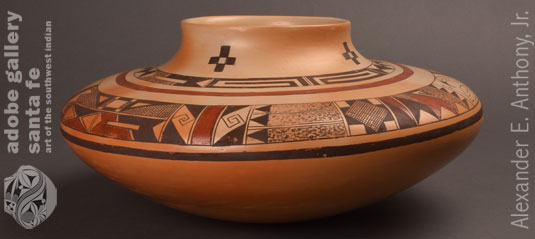 Mark Tahbo, Hopi-Tewa Potter
---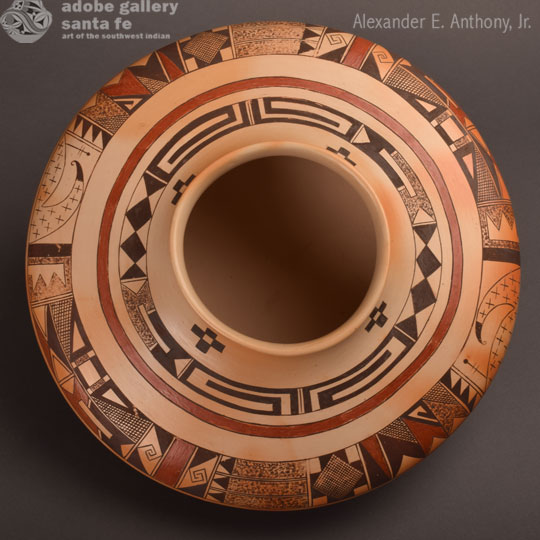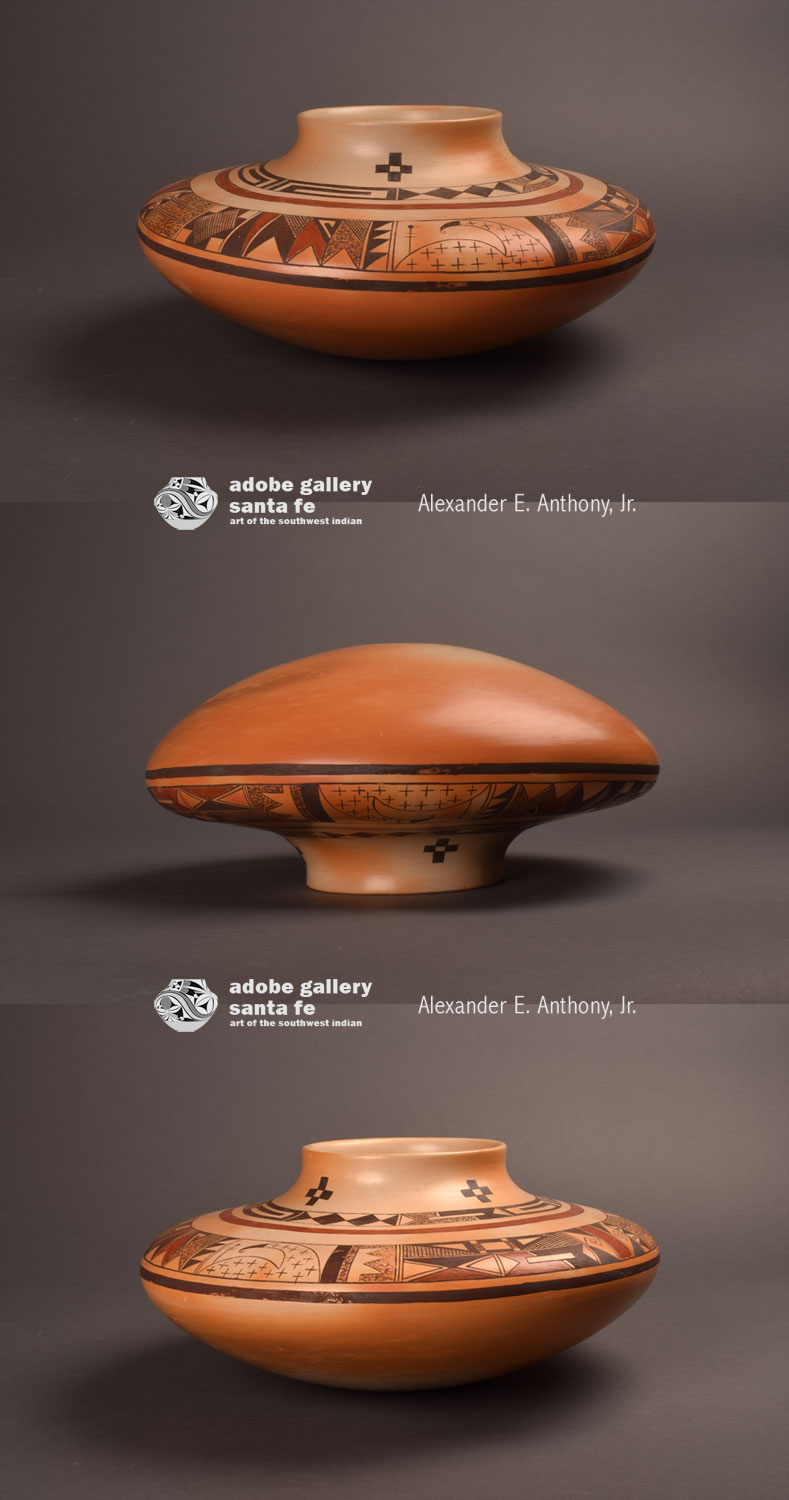 Click on image to view larger.
---
Adobe Gallery Recommended Reading