---
Historic Ohkay Owingeh, San Juan Pueblo Polished Red Pottery Storage Vessel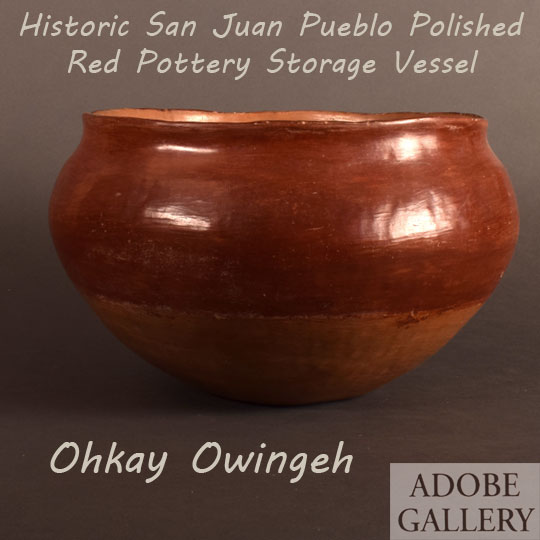 + Add to my watchlist

Forward to Friend
This pottery vessel might be called a dough bowl or a storage jar, depending on its use. It is typical of traditional San Juan Pueblo (now known as Ohkay Owingeh) Red-on-tan typology and dates from circa 1930. The upper half of the vessel is covered in deep, highly stone-polished red slip over the basic tan vessel, and the lower part remains a stone-polished natural clay body.
The interior was first stone polished to the natural tan clay body and then red clay was painted in a circle in the bottom with four red lines radiating from that center, as if rays of the sun. They climb up the inner wall. I have no explanation for such a design. I'm confident there is a meaning or a purpose but am unable to explain it.
The vessel was fired outdoors and shows several natural "fire clouds," all restricted to the underbody tan color. Fire clouds are not an accident but are deliberate and add immeasurably to the beauty of plainware pottery. They are highly desirable. The walls flare outward and upward, then curve inward before rolling out just slightly at the neck. This is one of the nicest San Juan jars we have had in the gallery. It has a beautiful globular shape with the widest diameter just above mid-point and a short graceful outwardly curving neck. The deep red is a color of earlier San Juan usage, which later turned more orange in tone.
According to Jonathan Batkin in Pottery of the Pueblos of New Mexico 1700-1940 (see reference link below), pottery making at San Juan almost died out around 1900 except for an occasional piece made for household use or for sale or trade but was revived in the 1930s. The revival was more in tune with carved pottery of Santa Clara as that is what the potters at San Juan thought would be best sellers.
Plainware jars depend on their shapes and burnishing of the slip to catch the eye of collectors. There are no elaborate painted designs, only an array of fire clouds. Sophisticated collectors recognize the beauty of plainware jars and understand that most were made for the pleasure of the pueblo household and not for sale. It is fortunate that some made it to market for today's collectors.
The tradition of applying red slip only to the upper body is in line with the technique used at all the Tewa Pueblos. Such a division line is not as easily recognized in polychrome painted jars and bowls because one is distracted by the designs. Almost all Tewa jars have a similar unpainted lower part, below the painted design area. It is just more obvious on these early San Juan vessels.
---
Condition: excellent condition. UV light examination does not reveal any repairs or damage.
Provenance: this Historic Ohkay Owingeh, San Juan Pueblo Polished Red Pottery Storage Vessel is from a gentleman in Connecticut.
Reference and Recommended Reading: Pottery of the Pueblos of New Mexico 1700-1940 by Jonathan Batkin
Relative Links: Southwest Indian Pottery, San Juan Pueblo, Historic Pottery, Santa Clara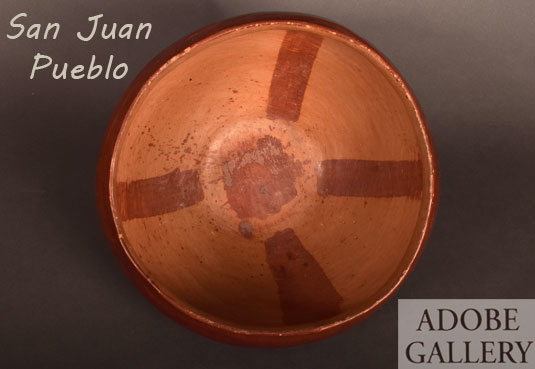 Pueblo Potter Unknown
---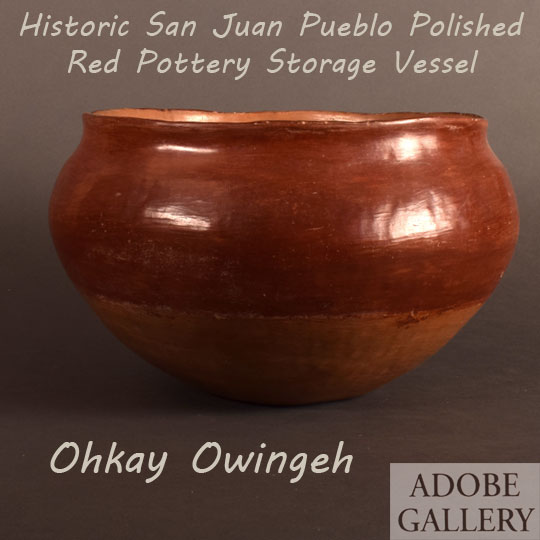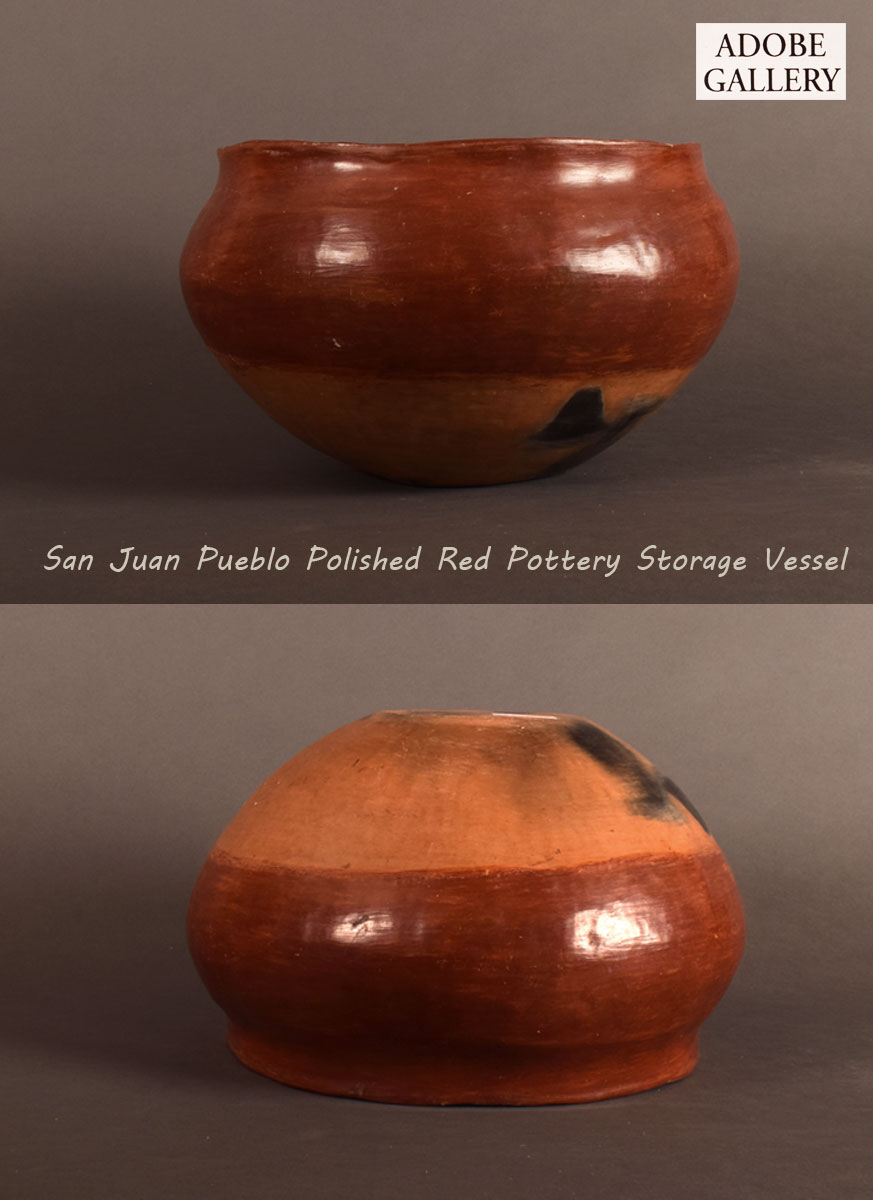 Click on image to view larger.
---
Adobe Gallery Recommended Reading
Adobe Gallery Recommended Items
---
If you are interested in this item, we would also like to recommend these other related items: