---
Chief Teaching His Son to be a Warrior by Julian Martinez [SOLD]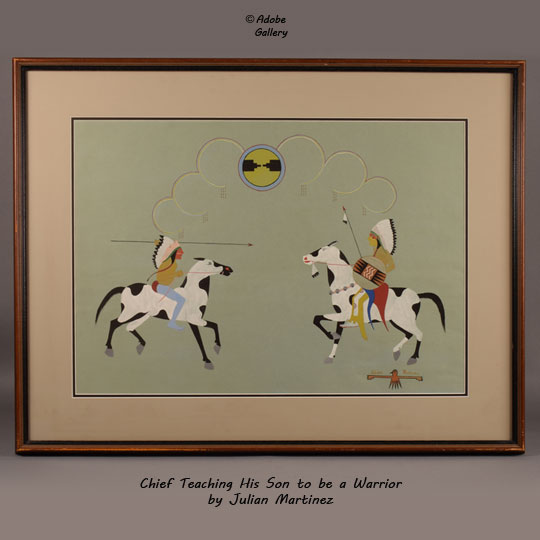 + Add to my watchlist Forward to Friend
Julian Martinez, the husband of acclaimed San Ildefonso Pueblo potter Maria Martinez, was what one would today call a true "renaissance man". In addition to painting, Martinez listed his occupations as a "farmer, laborer, janitor [for the Museum of New Mexico], and pottery designer", as well as serving as the governor for San Ildefonso Pueblo. Known primarily for his paintings on his wife's pottery, his works on paper are considered rare, simply because he didn't have the time to create a significant number of them.
In this piece, titled "Chief Teaching His Son to Be a Warrior", Martinez gives the viewer a glimpse into a significant moment of education and mentorship. Both father and son are on horseback, although the father is in a more elevated position, outfitted with much more of the traditional garb and materials that come with experience and maturity. His horse is similarly larger and more equipped than his son's. His son, shown with a rather anxious, timid facial expression, is seated lower than his father and is dressed less elaborately. The father is likely speaking to his son, instructing him on how to conduct himself in scenarios like hunting, traveling, battle, and various other aspects of life.
Aside from the seating positions, the painting is largely symmetrical, with father and son about equidistant from the center, which contains an image of rain clouds with a symbolic circle in the middle of unknown meaning. Considering the age of the painting (dated 1935 in the book referenced below), the colors are quite vibrant and robust. There is a pleasing soft green behind them, and each man and his respective horse is highly detailed. This is particularly true on the father's pant legs as well as his shield, both done with an intricacy that shows great attention to design and form.

In the bottom right hand corner, another very fascinating aspect of this work, is the signature of Julián Martinez. It's not his usual signature however, as he included a depiction of a thunderbird with outstretched wings below his name. This is also done with incredible attention to detail, and interestingly enough the wings are shaped in a way reminiscent of the step-like shape of New Mexico's southwestern border. It's likely that this wasn't intentional, but it's still intriguing nonetheless. On the ends of each of those wings are tassels, which call to mind the tassels traditionally seen on Native American rugs and blankets.
This painting is framed beautifully using archival materials, museum protective glass, and a carved wood frame. A type-written title and short biography are also featured on the back of the frame. This painting is illustrated on page 193 of Through Their Eyes: Indian Painting in Santa Fe, 1918-1945 by Michelle McGeough, Wheelwright Museum of the American Indian, 2009.
Julián Martinez (1885-1943) Pocano "Coming of the Spirits" was an artist who was born, lived most of his life, and died at the small but artistically rich San Ildefonso Pueblo. He is perhaps best known for painting designs onto the pottery vessels created by his wife—the famous San Ildefonso potter Maria Martinez. He painted works on paper, too, and did so successfully despite receiving no formal art education. He was the father of Popovi Da and the grandfather of Tony Da, both of whom went on to become famous and successful artists themselves. Martinez was an important part of two major artistic movements: the beginnings of both Black-on-black San Ildefonso pottery and traditional "flat style" pueblo painting. Martinez passed away in 1943.
---
Condition: this Chief Teaching His Son to be a Warrior by Julian Martinez is in excellent condition
Provenance:
- Most likely from Fisher Galleries in Albuquerque, based on a typed identification card on yellow stock which appears on all paintings from Mrs. Fisher's gallery, which closed in the 1990s.
-Ex collection of Charlotte G. Mittler, purchased in 1993
-Sold in 2017 as part of Adobe Gallery's "A CENTURY OF PUEBLO PAINTERS: SAN ILDEFONSO PUEBLO 1900-1999" exhibit, and recently returned to be placed back on the market
Recommended Reading: Through Their Eyes: Indian Painting in Santa Fe, 1918-1945 by Michelle McGeough
TAGS: San Ildefonso Pueblo, Maria Martinez, Popovi Da, pottery, paintings, Julian Martinez
Julián Martinez, San Ildefonso Pueblo Painter
Category: Paintings
Medium: watercolor
Size:
16-½" x 23-½" image;
24-¼" x 31 framed
Item # C4762B

SOLD
---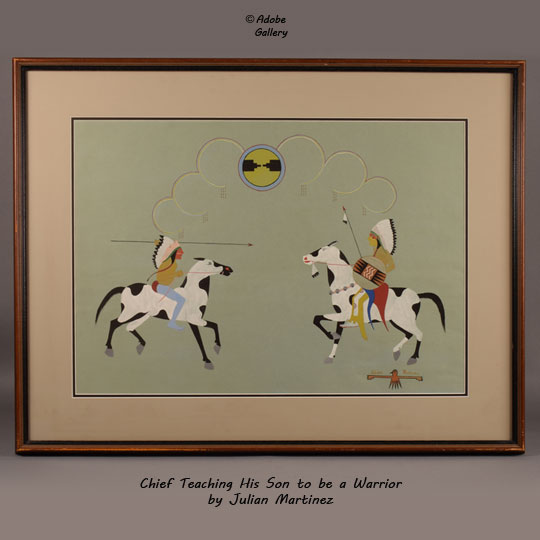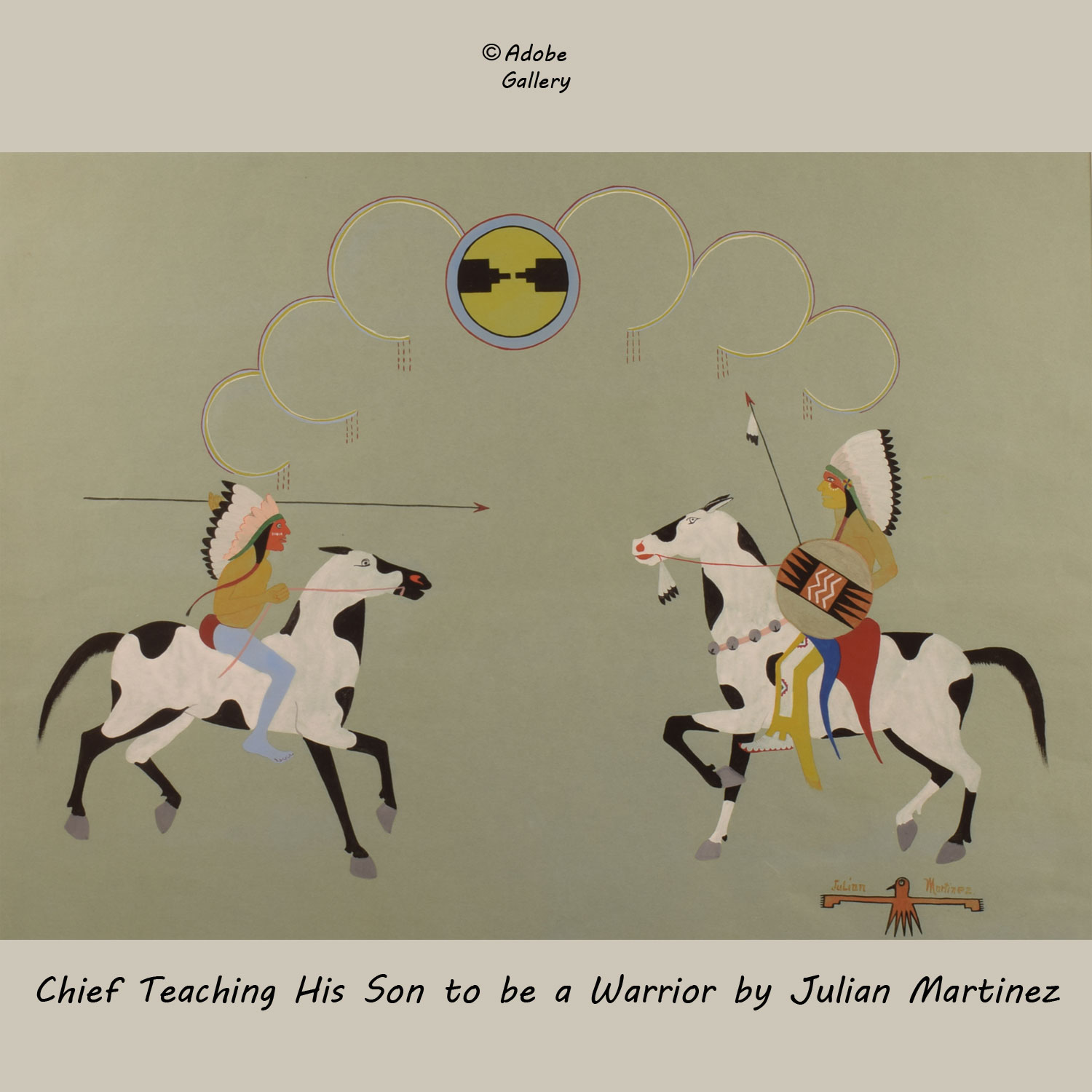 Click on image to view larger.
---
Adobe Gallery Recommended Reading
Adobe Gallery Recommended Items
---
If you are interested in this item, we would also like to recommend these other related items: