---
Cochiti Pueblo Snowflake Flower 8-piece Nacimiento [SOLD]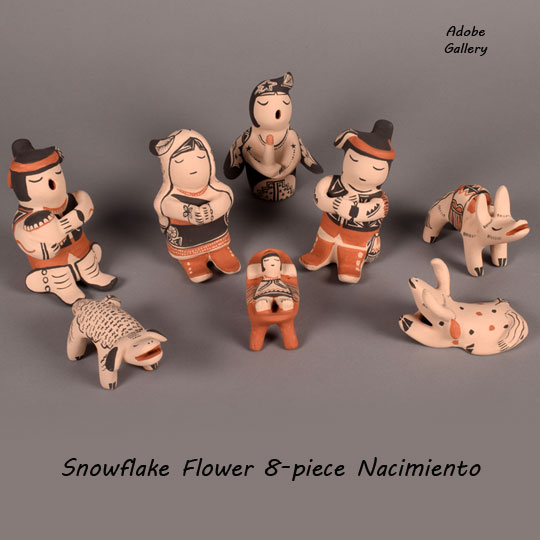 + Add to my watchlist Forward to Friend
This charming Nacimiento by Cochiti Pueblo artist Stephanie Rhoades, or Snowflake Flower, contains eight individual figurines. There is, of course, the Holy family, an angel holding a candle, a drummer, and three animals.
Mary is seated with her hands clasped and eyes closed in silent prayer. She wears the traditional pueblo dress and a beautiful shawl over her head and back. It is beautifully decorated with butterflies. As is traditional with Snowflake Flower's figurines, she has a prayer feather on her head.
Joseph also is seated with his eyes closed. His left hand is out, and his right hand is at his chest as if he is speaking or singing. He has a medicine pouch hanging on his left side. A blanket strip hangs over his back. He, too, has a prayer feather on his head.
The angel has her eyes closed and mouth open. She is likely singing a song of praise. She carries a candle in her hands. Her clothing and wings are decorated with stars. A prayer feather is on her head.
The baby Jesus appears to be asleep on his elevated cradle. His body is draped with a fringed blanket.
The drummer holds a drum in his right arm, supported with his left one. He has his eyes closed and mouth open as if he is singing. His white moccasins have wide flaps. A fringed blanket hangs from his right shoulder over his back. As with the other figures, he wears a prayer feather on his head.
The three animals were identified by the potter as a ewe whose back and tail are wooly; a donkey with a faggot of wood on its back; and a praying cow which has its front legs clasped together. Each animal has a prayer feather.
Snowflake Flower placed prayer feathers on her figurines, something she started doing in 1983 when her daughter went into a coma. She continued to put feathers on the figures as a prayer for her recovery and that her prayer would be spread through more and more people as they purchased her pottery. Finally, 16 years later, her daughter awoke from the coma.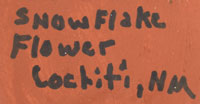 Snowflake Flower was named Estephanita after her grandmother, Estephanita Herrera, but she is known as Stephanie or Snowflake Flower. She attended the University of New Mexico and received her BS in Education in 1985. She started making pottery figurines around 1979 and has specialized in storytellers, Nacimientos, owls and other figurines.
Stephanie Rhoades (1931-2018) Snowflake Flower was an exceptional potter and award winner, and she was featured in a book by Barbara Babcock (see Recommended Reading below). She made storyteller figurines and Nacimientos that exude an air of nobility yet feature a feeling of pueblo life as well. She left a wonderful legacy in her pottery figurines.
---
Condition: original condition.
Provenance: this Cochiti Pueblo Snowflake Flower 8-piece Nacimiento is from the collection of a family from Santa Fe who purchased it in 2014.
Recommended Reading:
- Nacimientos: Nativity Scenes by Southwest Indian Artisans by Guy and Doris Monthan
- The Pueblo Storyteller: Development of a Figurative Ceramic Tradition by Barbara Babcock Ph.D.
Relative Links: Cochiti Pueblo, Mary Martin, Ada Suina, storyteller figurines, Pueblo Pottery, Stephanie Rhoades, Snowflake Flower, Cochiti Pueblo Figurines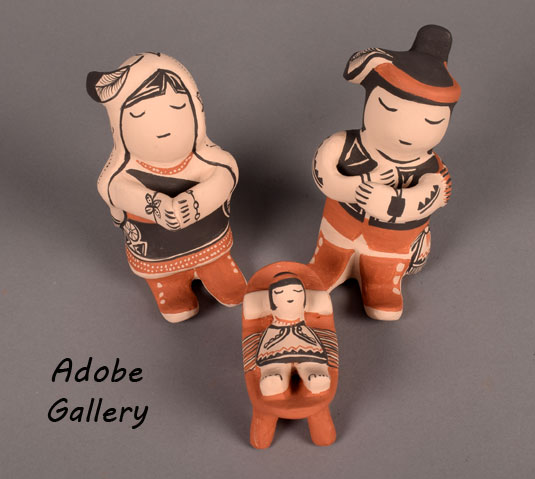 Stephanie Rhoades, Snowflake Flower, Cochiti Pueblo Figurines
---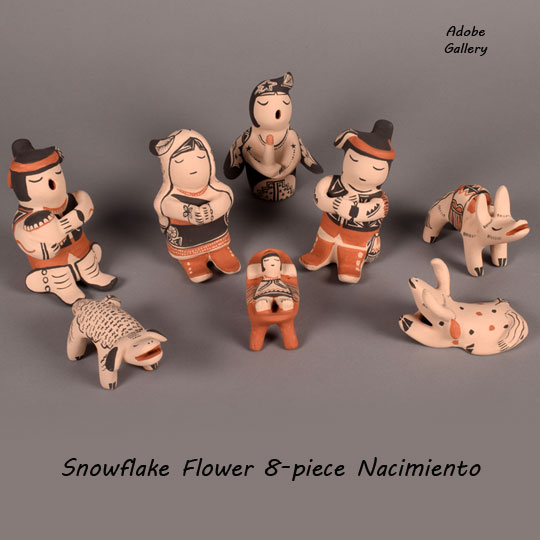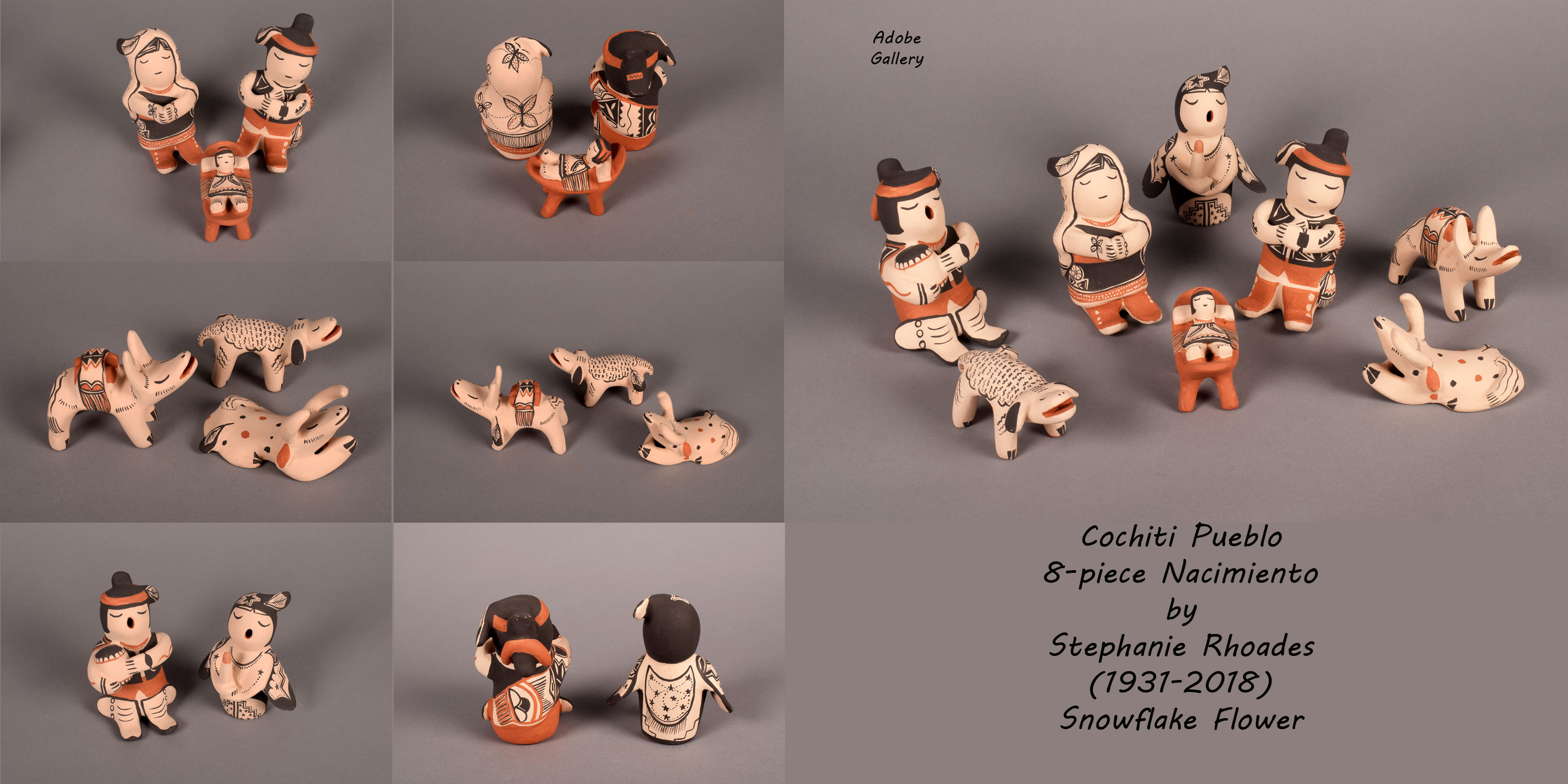 Click on image to view larger.
---
Adobe Gallery Recommended Reading
Adobe Gallery Recommended Items
---
If you are interested in this item, we would also like to recommend these other related items: