---
HELEN CORDERO Male Storyteller Figurine with 8 Children [SOLD]
+ Add to my watchlist Forward to Friend
This pottery storyteller figurine was made by Cochiti Pueblo matriarch Helen Cordero in 1994. Shortly after purchasing it from her, we sold it to a client in California from whom we now have it back to share with another collector.
The adult figure has his eyes closed and mouth open as he tells stories to the eight children gathered around him. His hair is tied in a chonga behind his head and his shirt has collars and buttons. He is wearing a cross necklace.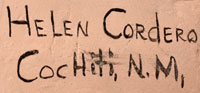 Climbing up his back are two boys—one looking off to the right and the other to the left. Sitting on his right leg are two children, perhaps one a girl and the other a boy. The girl, probably older, has her arm around the young boy who has his eyes covered. On the other leg are two boys, the one resting his hand on the adult's hand and the other clutching the boy in front. There is a boy perched on each shoulder. On the right shoulder, he has his hands up to his face. The boy on the left shoulder is nonchalant and unafraid.
What is known today as a Storyteller figurine had its beginning in 1964 from the hands of Helen Cordero. Alexander Girard, the noted architect and folk-art collector, saw a figurine by Cordero at a Santo Domingo feast day arts and crafts booth and requested that she make more and larger ones and bring them to him. He continued to encourage her to make larger figurines. When Cordero began thinking about his requests, she made a male figurine with a child in his lap. That was in 1964. After Girard purchased that one, he suggested she make a larger one with more children. Helen recalled that her grandfather was a storyteller at the pueblo. Based on those memories, she began creating male figurines with many children. These creations, based on her grandfather, was the beginning of the storyteller figurine tradition at Cochiti Pueblo. In the five decades since her creation, the storyteller figurine tradition has blossomed.
Today, many potters at almost all the pueblos make storyteller figurines, some male and some female, but Cordero continued only making male storytellers because of the connection to her grandfather. She never made a female storyteller. Her female figurines are called Singing Mother, Hopi Maiden or other names. Cordero used to say that the other potters, who made female storyteller figurines, didn't understand her intent.
Throughout her career, Helen Cordero (1915-1994) made male storytellers, female singing mothers, Hopi maidens with traditional Hopi unmarried girl's hair style, nacimientos and a figurine named mother turtle. She never went back to try and make bowls and other vessels. She had found her talent in making figurative pottery and we, as collectors, are the richer for it.
This figurine is a testament to Cordero's talent. It was beautifully sculpted and painted and is in very good condition.
Relative Links: storyteller figurine, pottery, Cochiti Pueblo, Antonita "Toni" Suina, Buffy Cordero, Tim Cordero, Evon Trujillo, Helen Cordero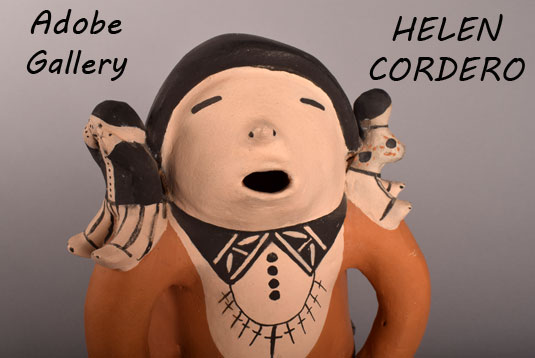 Helen Cordero, Cochiti Pueblo Potter
Category: Figurines
Origin: Cochiti Pueblo, KO-TYIT
Medium: clay, pigment
Size: 10-½" high x 10" deep x 6-½" wide
Item # C4401.02

SOLD
---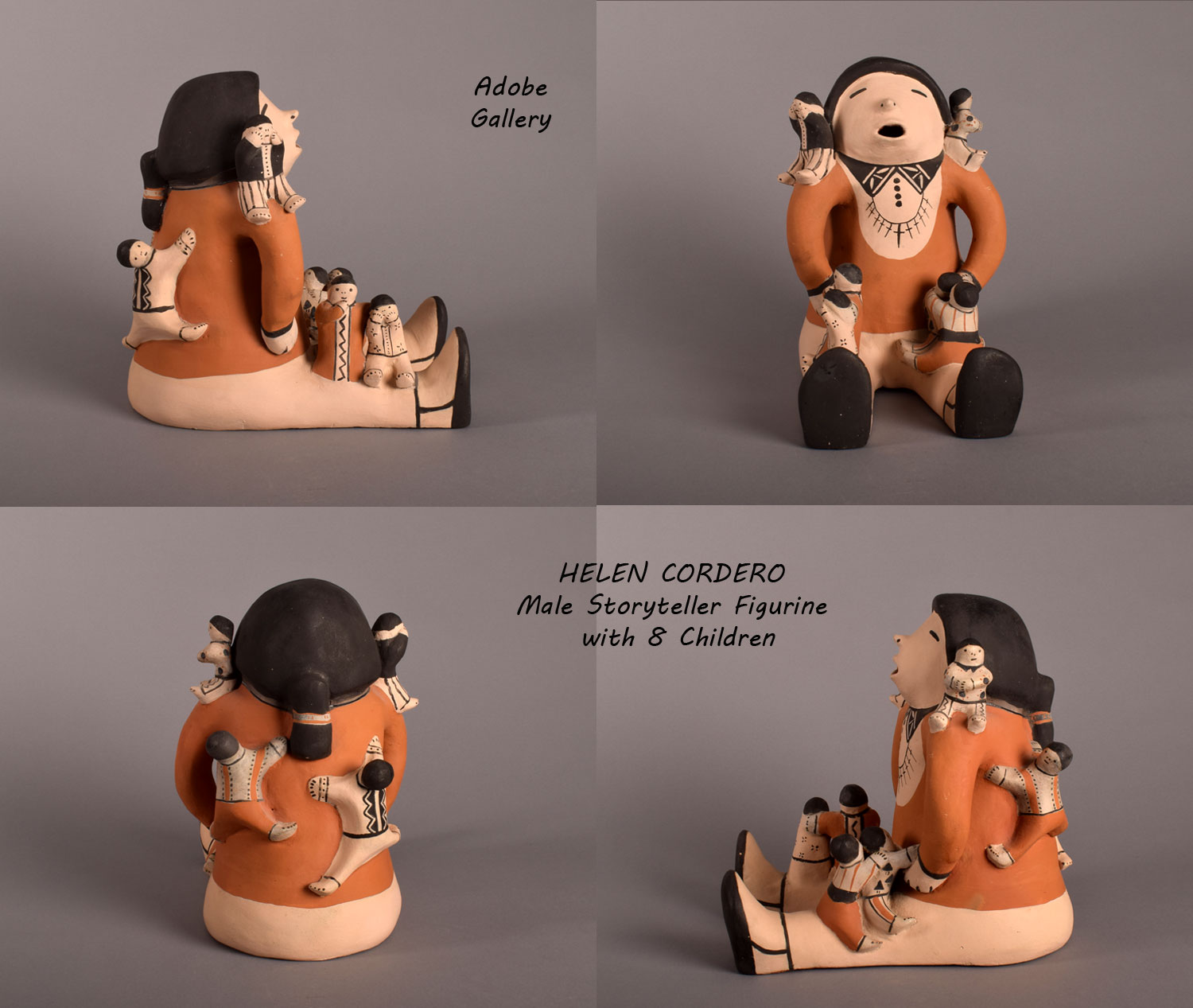 Click on image to view larger.
---
Adobe Gallery Recommended Reading