---
Jimmy Koots Pang (Bighorn Sheep) Katsina Doll [SOLD]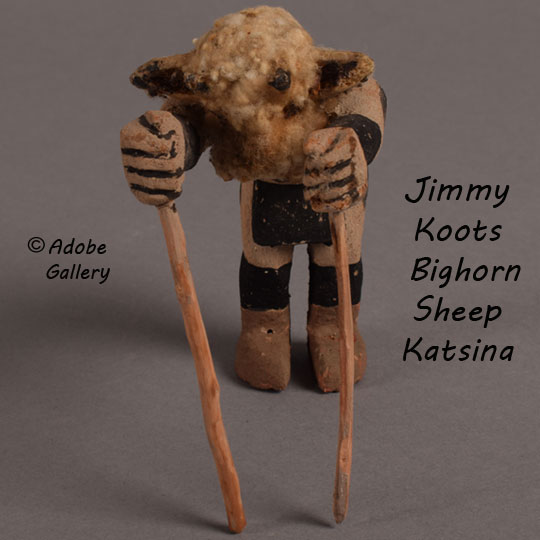 + Add to my watchlist Forward to Friend
This small Hopi Pueblo katsina doll holds a pair of sticks in his hands which simulate the front legs of the bighorn sheep that he is representing in dance. His body is painted in the kaolin-color used on all Jimmy Koots carvings. There are black circles on the body, arms, and legs. The head is covered to represent the wool of a sheep.
This carving is small, not miniature, but small, measuring around 4 inches tall in the bent over position. It would measure approximately 6-¼ inches tall if it was in the standing position.
This carving by James Kootshongsie (1916-1996) Jimmie Koots well illustrates the fine craftsmanship he evidenced over his career. He was born at Hopi Pueblo in the Third Mesa village of Hotevilla during the period of World War I. At a very young age, he and many other Hopi children were removed from their homes and taken to government schools where they were to be assimilated into the White man's culture while being stripped of their Hopi beliefs and heritage. Koots survived the five long years at the Bureau of Indian Affairs school and then returned to his native village.
At age 22, Koots was again taken away from his native village and sent off to the Pacific to fight in World War II. Following this war, he once again returned to the village of Hotevilla. It was then that he discovered that the big oil companies and the government were colluding to remove the Hopi from their reservation because of the wealth of mineral resources-coal, gas, oil, and Uranium. He became an activist against strip mining and the big corporations. Because of his and many other's efforts the Hopi retained their native land.
Jimmy Koots was among a group of Hopi who revived the ancient art of traditional Hopi katsina carvings. He was immensely popular in the 1960s and 1970s as a katsina doll carver. His dolls were mostly sold in Santa Fe at a downtown shop called Rare Things by Dutton, a business that is now closed but was very active in the 1960s-1980s. His carvings, although not signed, are so distinctive in appearance that they can be easily identified as his work. This carving, as usual, is not signed with the name of the carver but it is without question the work of Jimmy Koots and was probably carved in the 1960s.
---
Condition: very good condition
Provenance: this Jimmy Koots Pang (Bighorn Sheep) Katsina Doll is from the collection of a client from New Jersey
Recommended Reading: The Great Tradition of Hopi Katsina Carvers 1880 to Present by Barry Walsh
TAGS: Hopi Pueblo, R.C. Gorman, San Ildefonso Pueblo, Katsina dolls, Romando Vigil, Tse Ye Mu, Manfred Susunkewa, Jimmy Kewanwytewa (Jimmy K), Walter Howato, James Kootshongsie, Hopi Kachina Dolls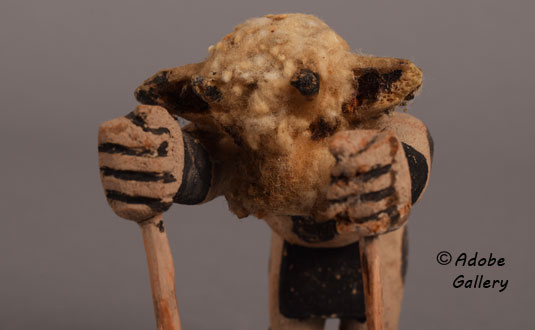 James Kootshongsie, Hopi Pueblo Carver
---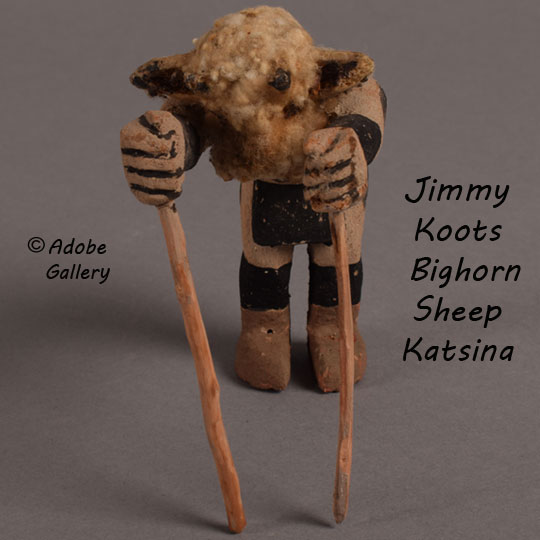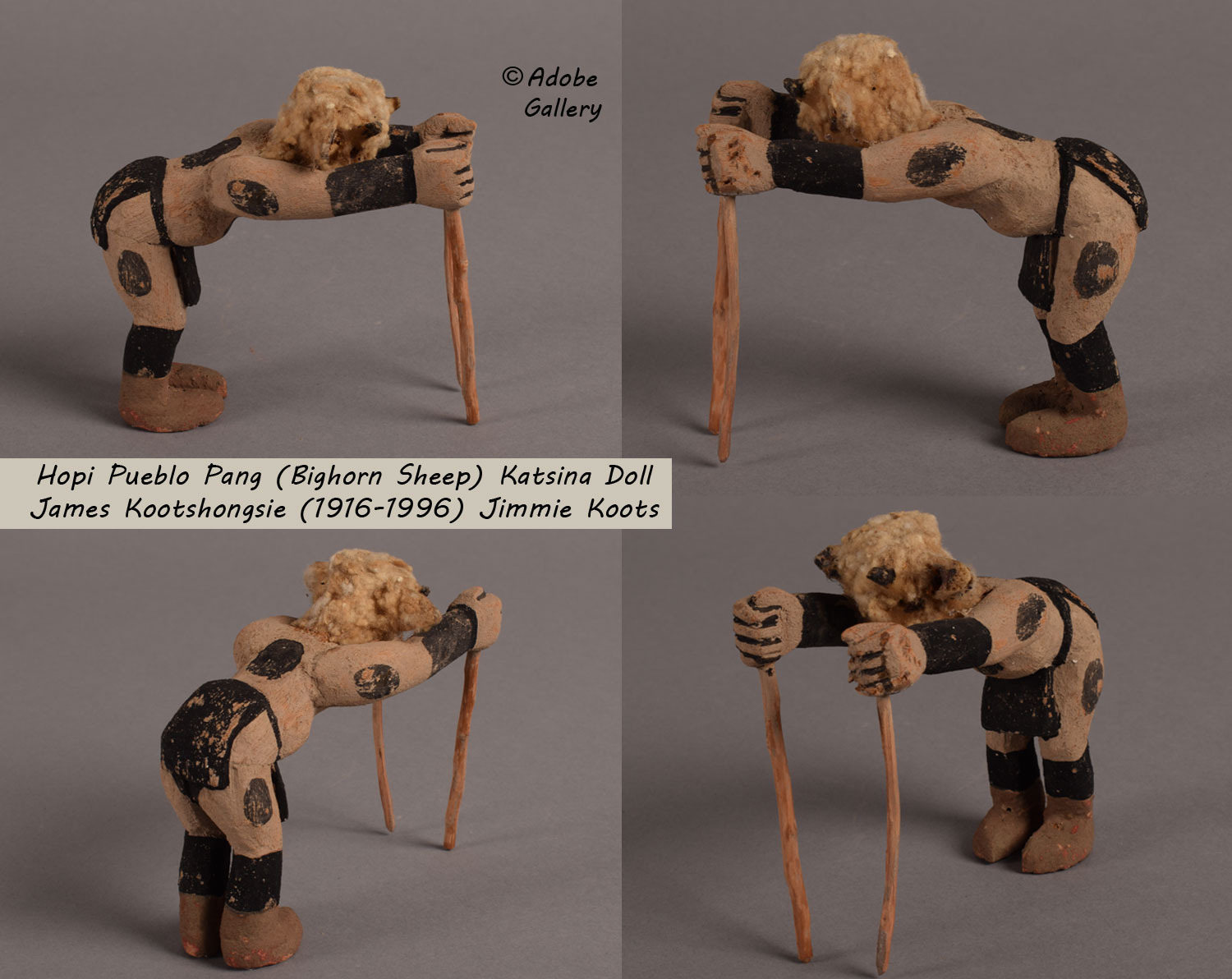 Click on image to view larger.
---
Adobe Gallery Recommended Reading