---
Ohkay Owingeh Eleven-Figure Original Painting by Gerónima Cruz Montoya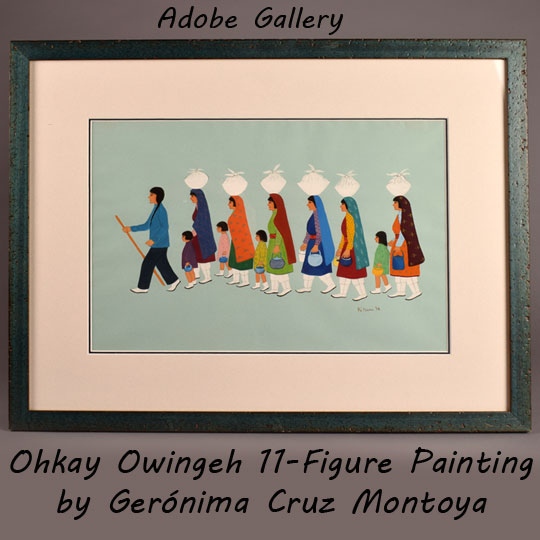 + Add to my watchlist

Forward to Friend
This untitled painting was created by Ohkay Owingeh artist Gerónima Cruz Montoya, a significant figure in the development of Pueblo Indian painting. Montoya is most frequently remembered as an educator, but her own creative works are equally worthy of praise. It is always a treat to view one of Montoya's charming, lively scenes of daily pueblo life. This piece, dated 1974, is one of the strongest we have seen. Montoya's subject here is a large group of people. A Pueblo friend of the gallery shared his thoughts on what might be happening in this scene. He suggested that it is likely a depiction of women taking food to the kiva. The baskets, which are carried on their heads, contain oven bread or other goods wrapped in cloth. The pots they carry contain stew. The children "tag along" with their mothers to help out.

A man with a walking stick leads the procession. Six women and four young girls follow him. In their hands and on their heads, they carry the aforementioned supplies. These figures are created in Montoya's own version of the traditional style. They're seen in profile and without any sort of background or ground plane. Instead of the precisely detailed lines used by her students and peers, Montoya used bold blocks of color to define her subjects. Each figure's clothing is unique, and many of these garments contain colorful patterns. Montoya must have had an affinity for her people's clothing, as we have observed this unique detail in other works by the artist. This wonderful array of colors works well with the light blue tone of the paper. This is a well-crafted, endearing image that makes the viewer want to join the procession.


The painting is signed P'otsunu and dated '74 in lower right. It is framed under acrylic, with a wide charcoal mat that contains a thin black interior border. The thin wood frame is painted green.
Gerónima Cruz Montoya (1915 – 2015) P'otsúnú – White Shell was a painter and educator from Ohkay Owingeh Pueblo. Montoya attended the Santa Fe Indian School, where she studied under the tutelage of Dorothy Dunn. She would eventually succeed Dunn as the head of the Indian School's art program. Like Dunn, and perhaps because of Dunn's encouragement of her own development, Montoya taught students to paint the images with which they were familiar. For these young Native Americans, that meant ceremonial dance scenes, mostly, as well as the occasional hunt or daily ritual image. Montoya's influence was significant, and many of her young students went on to become successful artists. A 1940 El Palacio exhibit review by Alfred Morang praised Montoya's skills as an instructor:
"the teacher has a rare grasp of the problems involved. She does not force the work into any preconceived pattern. She obviously allows the student to project his own ideas on paper, and simply guides him into a more rounded development of his initial creative impulse."
Montoya also attended the University of New Mexico, Claremont College, and the University of Albuquerque. Alfredo Martinez, Jean Ames, and Kenneth Chapman were some of her notable instructors. She was an excellent painter, of course, though her educational efforts occupied most of her time. Clara Lee Tanner's Southwest Indian Painting: A Changing Art describes Montoya as a "now and again" painter who was most active and successful during the 1960s. Tanner describes Montoya's skillful dance figure portrayal and Mimbres animal imagery and praises the "simplicity but strength of line" that is characteristic of her work. Montoya passed away in 2015. She remains highly regarded for her efforts as both an artist and educator.
When Adobe Gallery exhibited a large number of Santa Fe Indian School paintings a few years ago, Montoya heard about it and a friend brought her to see the exhibit. She was approaching her hundredth birthday, was walking with a cane, and was somewhat hard of hearing, however, as she stood in front of each painting, she described the student she remembered—"I would have to run him out of the class at the end of the day", and of another one "he was a very good student", and on and on about each of the students as if she was still teaching them today. She had fond remembrances of each student and a remarkable memory for her age. We were so impressed with her and so glad that she enjoyed the exhibit of her past students.
---
Condition: excellent condition. A few small creases and imperfections in the paper are present, but only visible when inspecting closely
Provenance: this Ohkay Owingeh Eleven-Figure Original Painting by Gerónima Cruz Montoya is from a private Santa Fe collection
Reference: Dunn, Dorothy. American Indian Painting of the Southwest and Plains Areas
Relative Links: Native American Painting, Ohkay Owingeh Pueblo – San Juan Pueblo, Robert Montoya, Paul Montoya, Gerónima Cruz Montoya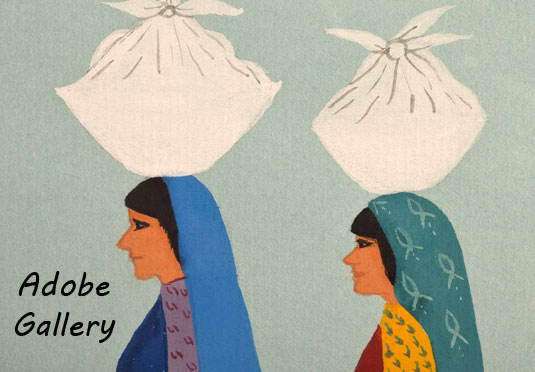 Gerónima Cruz Montoya, Ohkay Owingeh Pueblo Artist
---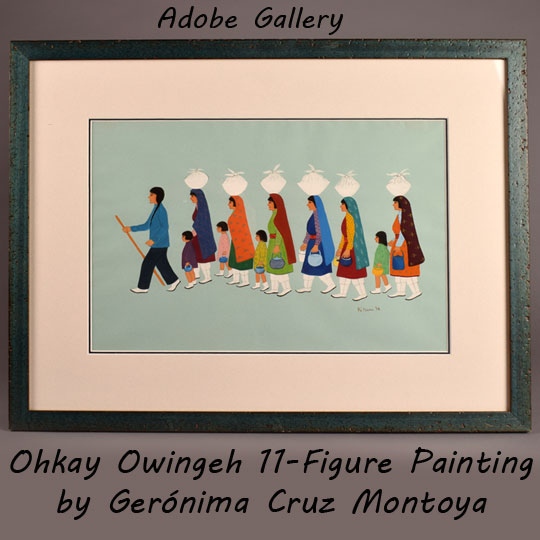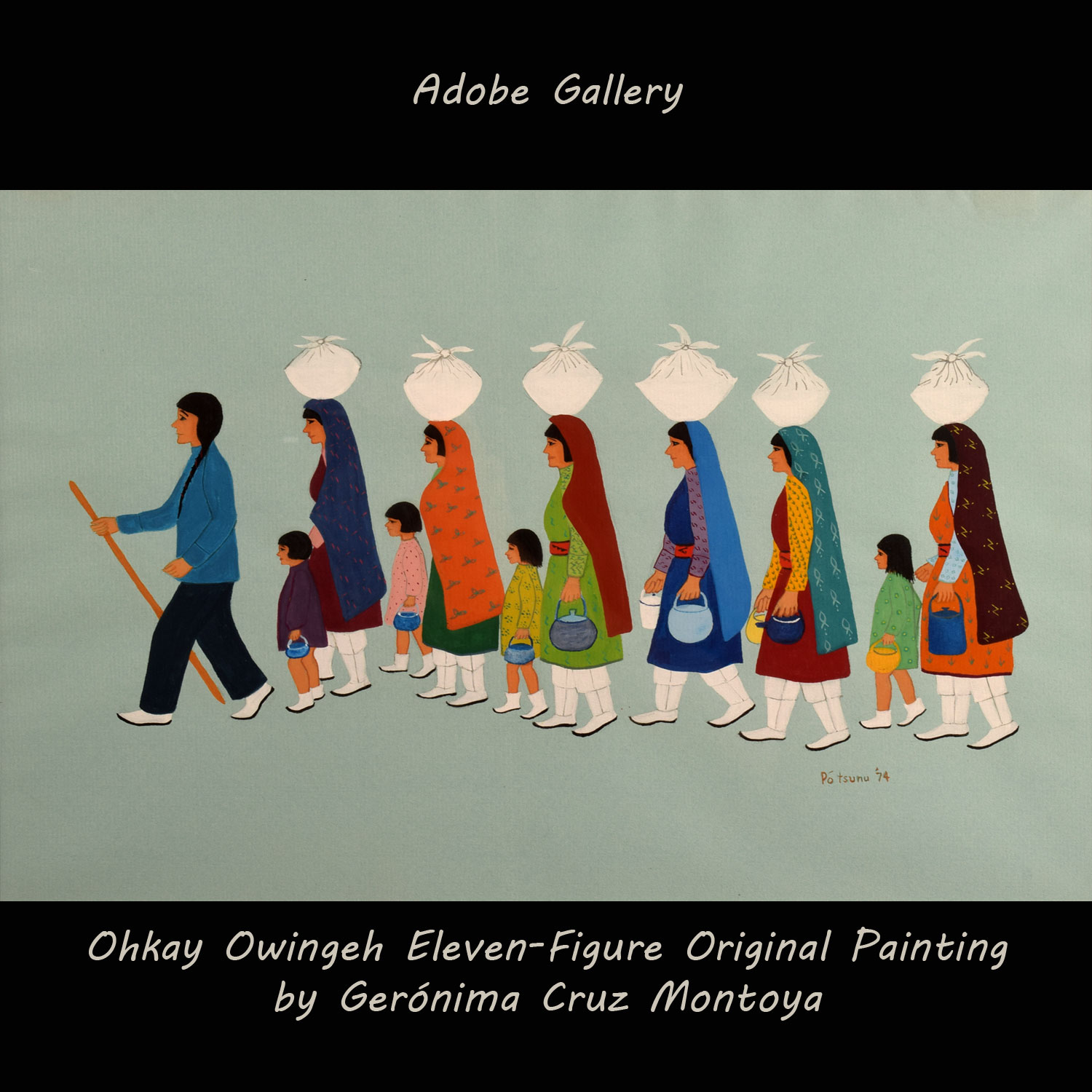 Click on image to view larger.
---
Adobe Gallery Recommended Reading
Adobe Gallery Recommended Items
---
If you are interested in this item, we would also like to recommend these other related items: