---
Original Painting of Buffalo Hunt dated 1938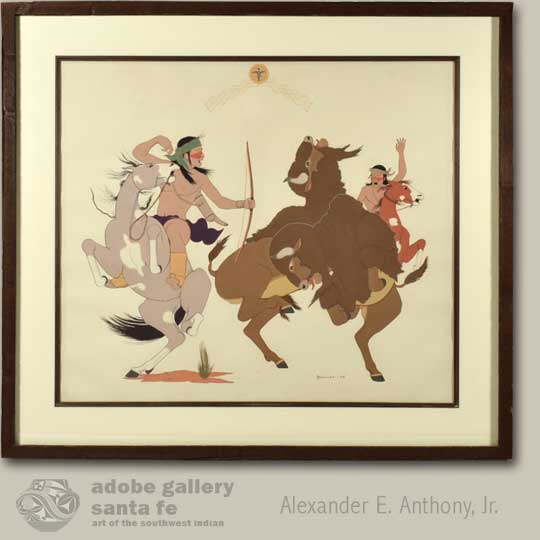 + Add to my watchlist

Forward to Friend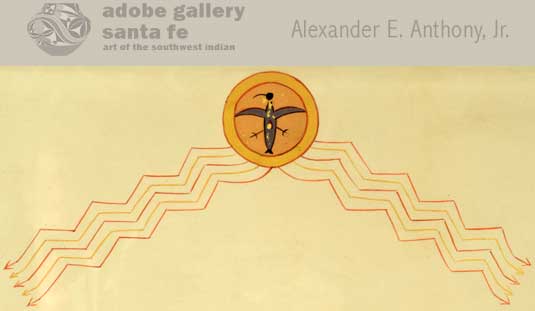 Allan Houser (1914-1994) Haozous was a Chiricahua Apache painter, sculptor, teacher and illustrator whose works are displayed in major museums and prominent private collections around the world. Today, he is recognized as one of the most successful and accomplished Indian artists of the 20th century. His works are included in the permanent collections of the Smithsonian Museum of American Art, the National Museum of the American Indian, and many other prestigious institutions. His many accomplishments include receiving a Guggenheim fellowship and being the first Native American to receive the National Medal of Arts. Through his sculptures, his paintings, and his efforts as an educator, Houser's voice remains one of the strongest in the world of Native American art.
Clara Lee Tanner's Southwest Indian Painting: A Changing Art praises the "immense vitality" of Houser's figures, and the exciting sense of movement that is seen in his works: "In many of Houser's paintings there is splendid action. Mouths are wide open in speech, arms participate in gestures, legs of the horses are lifted in high-stepping manner. Carefully drawn outlines often stress the vigor of figures; modeling lines make them more real. Coupled with his talent for drawing and the simplicity of line which tells so much is Houser's ability to handle color."

Just prior to the passage reproduced above, Tanner includes a detailed description of a 1938 painting by Houser: "Like so many of the Apaches, Houser had heard tale after tale from the older members of his family of the 'good old days.' Not the least among these were the stories of buffalo hunts, of warriors of bygone times. So accurately were these told to the young people and so indelibly were they impressed on their minds that many have successfully recorded fragments of these stories in paintings. One of Houser's paintings done in 1938 shows a hunter shooting a buffalo. The great animal on the right twists its body, either in agony from the arrow which pierces its back or to avoid a head-on collision with the horse and rider to the left. The man presents the epitome of tensed action necessary to draw the heavy bow: his mouth is open, baring his teeth, eyes are closed tightly, his drawing finger is still pulled back, his foot is slightly upturned in sustained action."

We were quite pleased when a longtime client contacted us about handling the sale of what is most likely the very painting described in Tanner's book. This wonderful untitled watercolor painting matches the description featured in the seminal text, and is signed and dated 1938. Included with the painting is a letter to the painting's owner from a former Collection Manager for the Allan Houser Foundation. The letter, which was written in 1996, describes the piece as "an excellent example of Allan's work from the period just after he graduated from The Painting Studio of the Santa Fe Indian School where he studied under Dorothy Dunn. You can clearly see the influence of that school in both the subject matter and technique of this piece." This letter was written in response to a letter to Houser from the painting's owner, which was found among Houser's belongings after he passed away.

The "immense vitality" and "splendid action" highlighted by Tanner are evident in this exhilarating image which was, impressively, completed when the artist was just 24 years old. Houser's two primary subjects are pictured head-on, facing the viewer. They appear to have just redirected themselves, avoiding a collision. Behind them, a second buffalo and second hunter add even more movement and action to the image. The hunters' horses, too, are depicted in motion, rearing up onto their hind legs as their riders focus on their targets. Most impressive is that each of these six figures, when studied closely by an attentive viewer, truly feels like its own entity. Each figure has its own energy, its own personality, and is on its own mission. Houser's ability to capture these six creatures as individuals is what sets this image apart from similarly-themed images by his peers. That he was able to create works of such remarkable quality so early in his career is truly incredible. Houser's paintings are not often available on the market, which makes this piece—an early work, of particularly high quality, documented in a major publication and commented on favorably by the artist's representatives—a rare and exciting opportunity for collectors of the finest Native American artworks.


The painting is signed "Houser - '38" in its lower right corner. It is framed tastefully, in a simple brown frame, underneath a matte that matches the paper's color.


Condition: this Paintings Original Painting of Buffalo Hunt dated 1938 is in excellent condition
Provenance: from the estate of a large collection of a New York resident
Recommended Reading: Southwest Indian Painting: A Changing Art by Clara Lee Tanner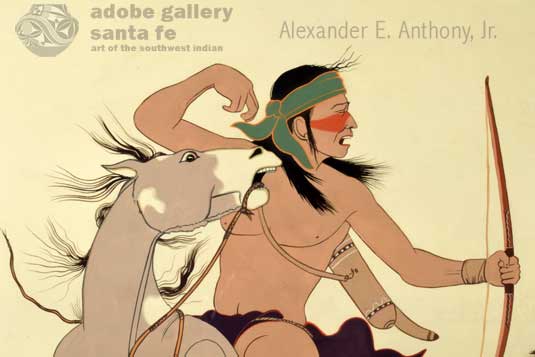 Allan Houser, Haozous, Chiricahua Apache Artist
Category: Paintings
Origin: Apache, American Indians
Medium: watercolor
Size:
19" by 22" image;
25-1/2" x 28-1/3" framed
Item # C4155i
---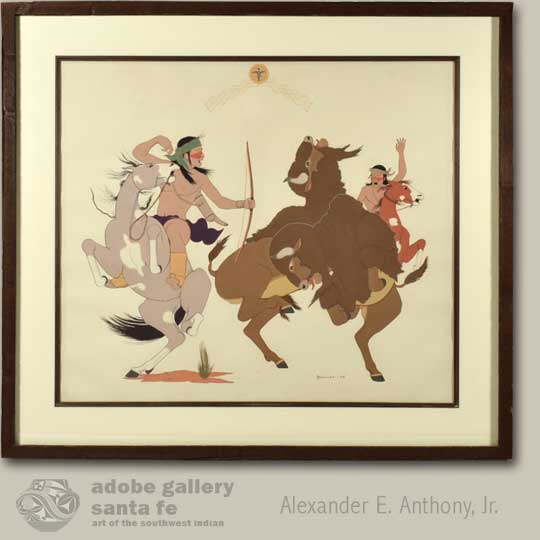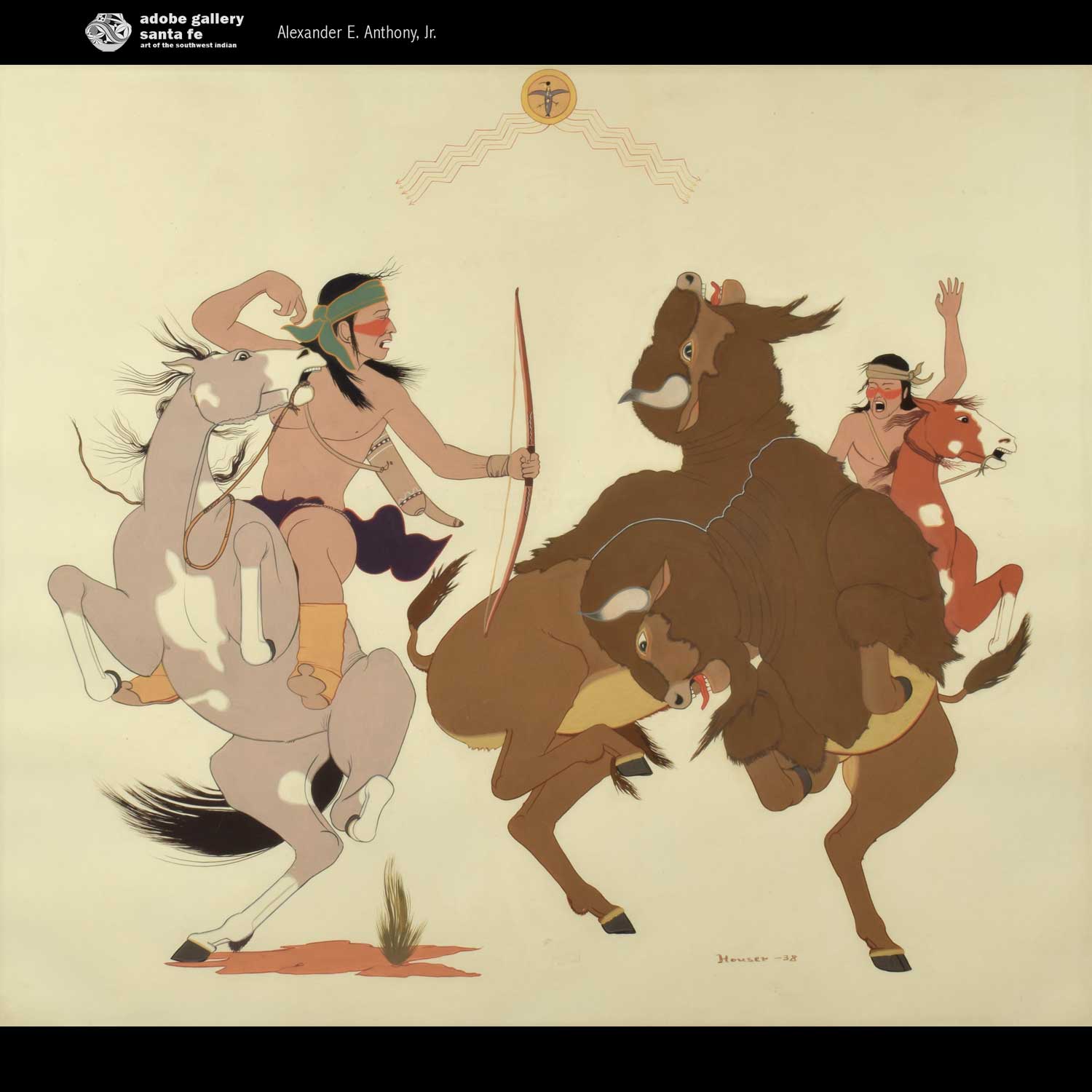 Click on image to view larger.
---
Adobe Gallery Recommended Reading