---
Pair of Paintings of Diné Children Under Rainbows by Harrison Begay [SOLD]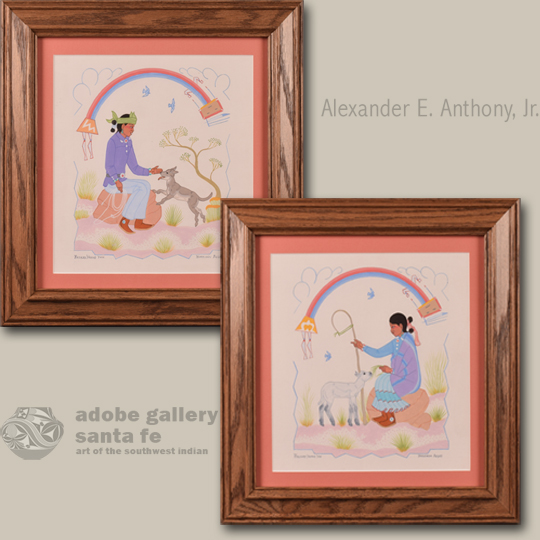 + Add to my watchlist Forward to Friend
Within most cultures, clothing is in some way a means of expression and an identifier of what people deem important. The Diné are no exception. Before the arrival of the Europeans, the Diné wore clothing made of animal skins and woven yucca fiber. The Europeans' arrival introduced them to sheep, and their clothing evolved into simple woven panels sewn together for women and poncho-like blankets for men. By the beginning of the 20th century, the use of velvet and calico became popular for both men and women. Women wore broomstick skirts made of colorful cotton or velvet. These tiered skirts were long and voluminous. To compliment the skirts, blouses in matching or complementary fabrics were worn. Early blouses were adorned with handmade silver buttons up the front and along the sleeves. Woven sashes went around the waist, many times with silver concha belts on top. Hide moccasins were worn. These moccasins were adorned with handmade silver buttons. Men's clothing consisted of trousers or blue jeans with velvet shirts heavily decorated with silver. Hide moccasins, like those worn by the women, were worn along with rounded crown hats.
Though no longer used for daily wear, the traditional garments described in detail above are still very significant to the Diné. Wearing certain styles and fabrics is a way of honoring one's ancestors and dressing up for ceremonies and special occasions like weddings, first smile celebrations and graduations is expected. Exactly what entails "traditional" Diné clothing is quite specific. This is evidenced by contests ranging from the "Navajo Baby Contest" at the Window Rock Navajo Nation Fair to the "Elder Fest" at the Utah Navajo Fair. In the Baby Contest, parents enter their children into a contest where the children wear what is considered "traditional" clothing and demonstrate their skills in weaving, riding, speaking Navajo and fry bread making. At the other end of the age spectrum, the Utah Fair, Diné elders don their finest traditional outfits and best jewelry and show their dance skills by two stepping in a round dance. At the center of contests like these is an abiding affection for traditional Diné clothing.

Diné painter Harrison Begay preferred to dress his subjects in traditional garments. These garments are beautiful, first and foremost, but they're also distinct to his culture, which undoubtedly helped him sell paintings. Begay and his peers' white patrons wanted images that were both decorative and culturally significant. He was a master at taking very specific imagery and depicting it in a widely appealing fashion. This pair of paintings succeeds on that level, using images that Begay had mastered decades earlier: young Diné people in traditional attire interacting with adorable animals, underneath colorful Rainbow Guardian figures. This pair, which dates to the 1970s, gives the children unusually elaborate surroundings. Their faces and hands, too, stand out as being particularly well-crafted. Many scholars suggest that Begay reached a technical peak during the early 1970s, and this pair is excellent evidence of that being an accurate assessment.


Harrison Begay (1917-2012) Haskay Yahne Yah (The Wandering Boy*) was a world-renowned Diné of the Navajo Nation painter who is generally regarded as one of the most successful and influential early Native American painters. Begay studied under Dorothy Dunn at the Santa Fe Indian School in the 1930s, and then attended colleges in North Carolina and Arizona. From 1942 to 1945, he served in the US Army Signal Corps. In 1947, Begay returned to the Navajo reservation, where he enjoyed a long and productive career as a painter. He is known to have continued painting into his 90s. Begay passed away in 2012.
* Note: Most published references to Harrison Begay state that the translation of his name Haskay Yahne Yah is Warrior Who Walked Up to His Enemy. The correct translation is The Wandering Boy. Thanks to Jim C. Hunt for bringing this to our attention. Hunt's father spent the better part of his life on the Navajo reservation. He taught the Navajo language at Northland Pioneer College in Holbrook, AZ, and was beyond fluent in the language. It was he who told the younger Hunt the correct translation. Our thanks to the Hunts for this enlightenment.
---
Condition: this Pair of Paintings of Diné Children Under Rainbows by Harrison Begay is in excellent condition
Provenance: from the large collection of a New Mexico resident who purchased it in the 1970s while living in Gallup, NM
Relative Links: Diné - Navajo, Harrison Begay, Dorothy Dunn, Native American Paintings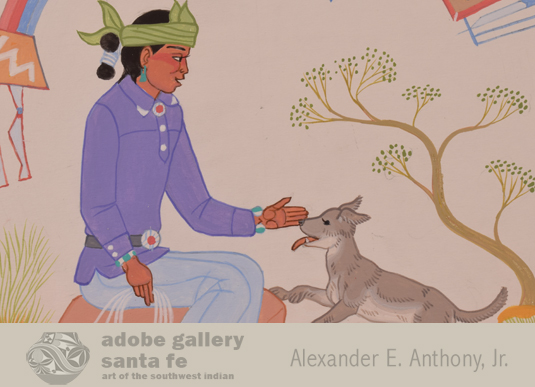 Harrison Begay, Diné Artist of the Navajo Nation
Category: Paintings
Origin: Diné of the Navajo Nation
Medium: watercolor
PRICE IS FOR PAIR
Size:
10" x 9-½" each image;
15 x 14-⅝" each framed
PRICE IS FOR PAIR
Item # C4158K-L

SOLD
---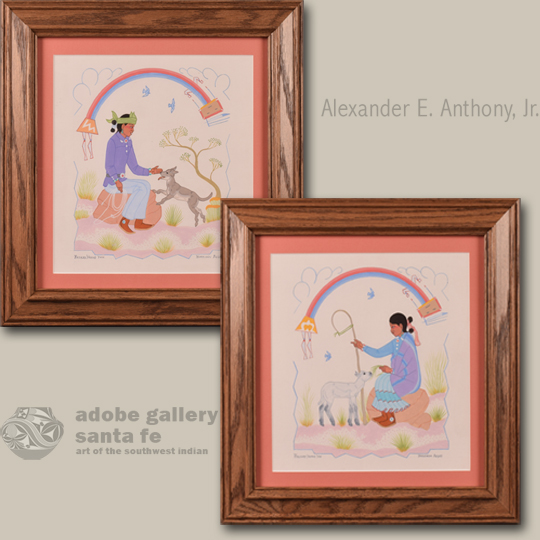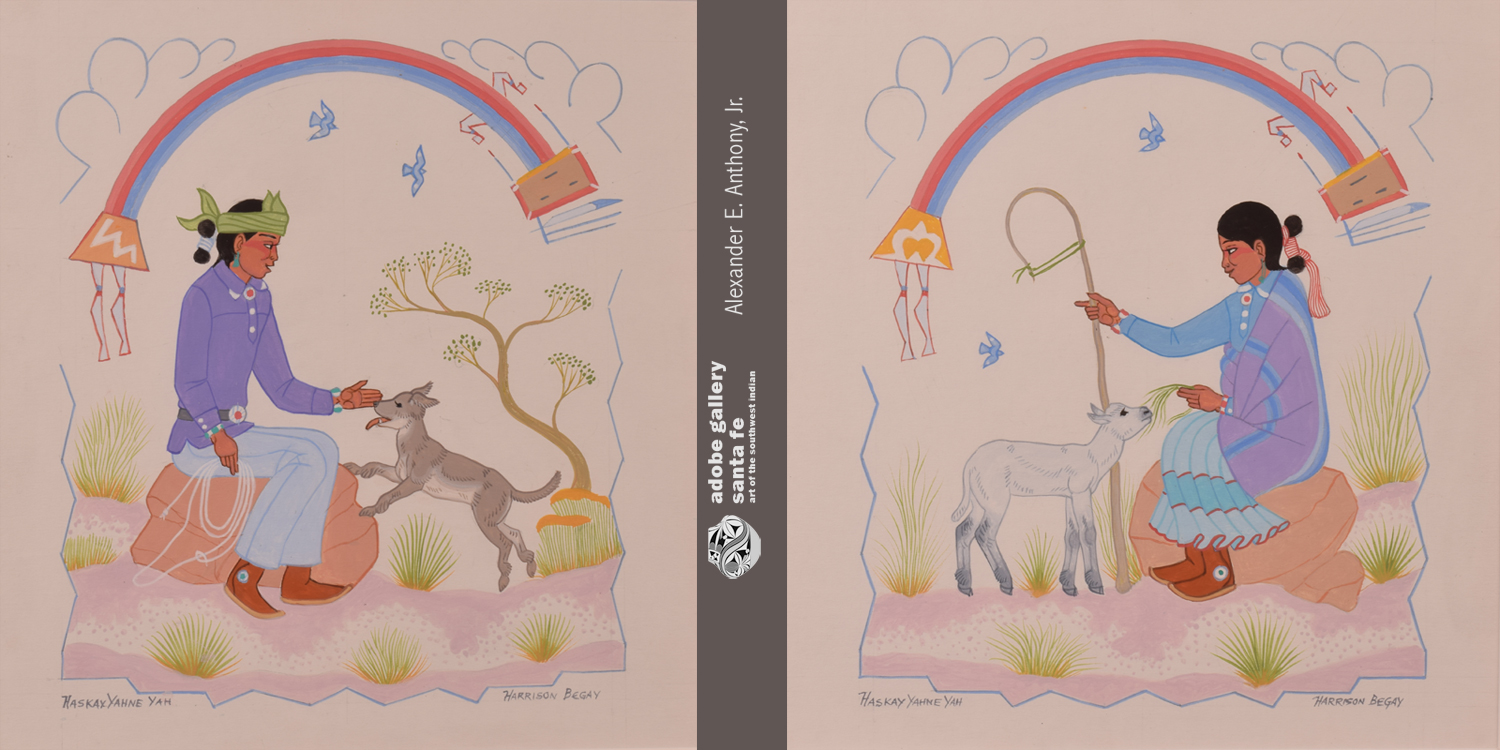 Click on image to view larger.
---
Adobe Gallery Recommended Reading