---
Harrison Begay Pair of Paintings of Diné Feather Dancers [SOLD]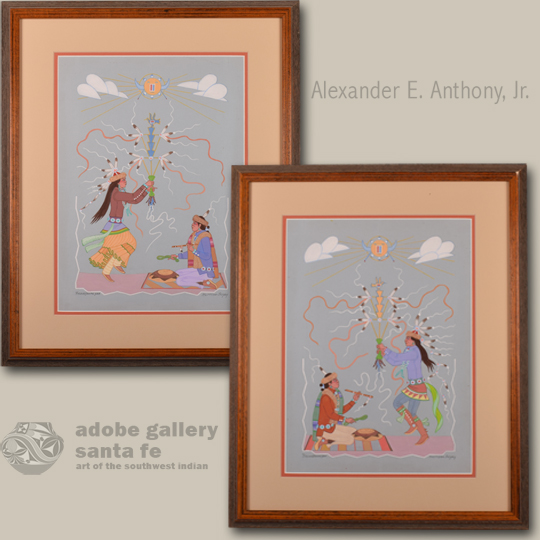 + Add to my watchlist Forward to Friend
When researching this excellent pair of paintings by Diné painter Harrison Begay, it dawned on us that it would be best to have an expert describe the intricacies of the ceremony. We consulted with *a talented young Diné painter whose excellent work is influenced by Begay's. He graciously provided the following information: "These two paintings both depict the Feather Dance of the Mountain-way ceremony. The male and female dancers wear tripod-shaped otter pelt headdresses adorned with plumes, string, and red horsehair. The dancers hold in both hands a wand representing a certain direction-blue is south, yellow is west. The upside-down triangle pattern represents storm clouds carried by a sacred bird. A blue bird and a yellow warbler bird are painted with rainbow symbols carrying moisture. The wooden wands are decorated with eagle plumes, yarn strings, and ribbons. The chanters carry a whistle, or a flute used during the corral dance, as a sound of their approach for the spectators. The basket is used as a drum, and the drumsticks are made of yucca blades braided together. The dancers dance to the rhythm of the basket drum and rattle. The sun and clouds represent the participants' blessings they receive."

Harrison Begay (1917-2012) often created paintings like this, that were sold as pairs and intended to be hung together. His subjects were usually dancers or Diné people and their horses or other animals. He'd arrange the images' components in a similar but reversed fashion, creating a pleasant symmetry when the paintings hung next to each other. Often, one painting would feature a male and the other would feature a female.


This magnificent pair of paintings fits that description but stands out from the many similarly arranged pairs because of its refined color palette and particularly strong composition. Begay's drummers kneel, wielding their yucca drumsticks and looking up towards the scene's most striking feature: the dancers' wands. The wands, held up into the center of each image by their carriers, begin in a cluster of triangular patterns before extending wildly in all directions via the yarn and ribbons mentioned above. The shapes that the yarns and ribbon form are just similar enough in each image to maintain the feeling of symmetry established by the placement of the dancers and drummers. The sun and storm cloud designs, again very similar with subtle variations between each image, are lovely. Begay used a larger, more ambitious color palette here than that which is seen in his more common works. This pair of paintings, which dates to the 1970s, is one of the very best examples of Harrison Begay's symmetrical painting pairs that we have ever had the pleasure of handling.


Harrison Begay (1917-2012) was a world-renowned Diné (Navajo) painter who is generally regarded as one of the most successful and influential early Native American painters. Begay studied under Dorothy Dunn at the Santa Fe Indian School in the 1930s, and then attended colleges in North Carolina and Arizona. From 1942 to 1945, he served in the US Army Signal Corps. In 1947, Begay returned to the Navajo reservation, where he enjoyed a long and productive career as a painter. He is known to have continued painting into his 90s. Begay passed away in 2012.
*Consultation with Dine artist Myron Denetclaw (1999-)
Condition: very good condition with a few minor spots that appear to be inherent to the piece
Provenance: this Harrison Begay Pair of Paintings of Diné Feather Dancers is from the large collection of a New Mexico resident who purchased it in the 1970s while living in Gallup, NM
Relative Links: Diné - Navajo, Harrison Begay, Dorothy Dunn, Native American Paintings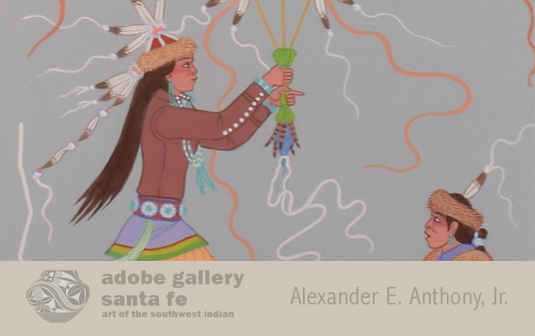 Harrison Begay, Diné Artist of the Navajo Nation
Category: Paintings
Origin: Diné of the Navajo Nation
Medium: watercolor
Price is for PAIR
Size:
15-½" x 11": image;
22-¼" x 17-¾": framed
Price if for PAIR
Item # C4158F-G

SOLD
---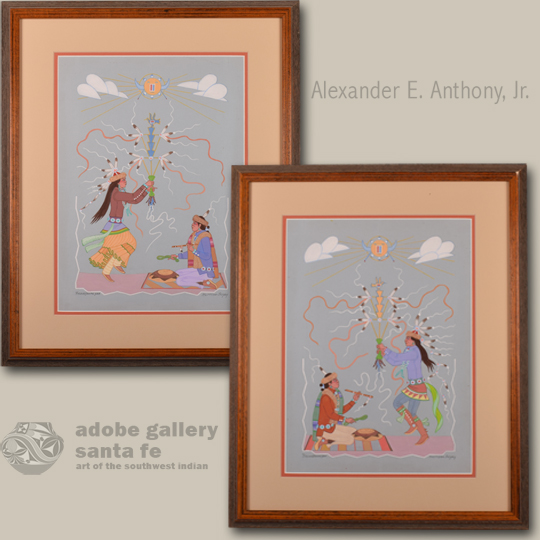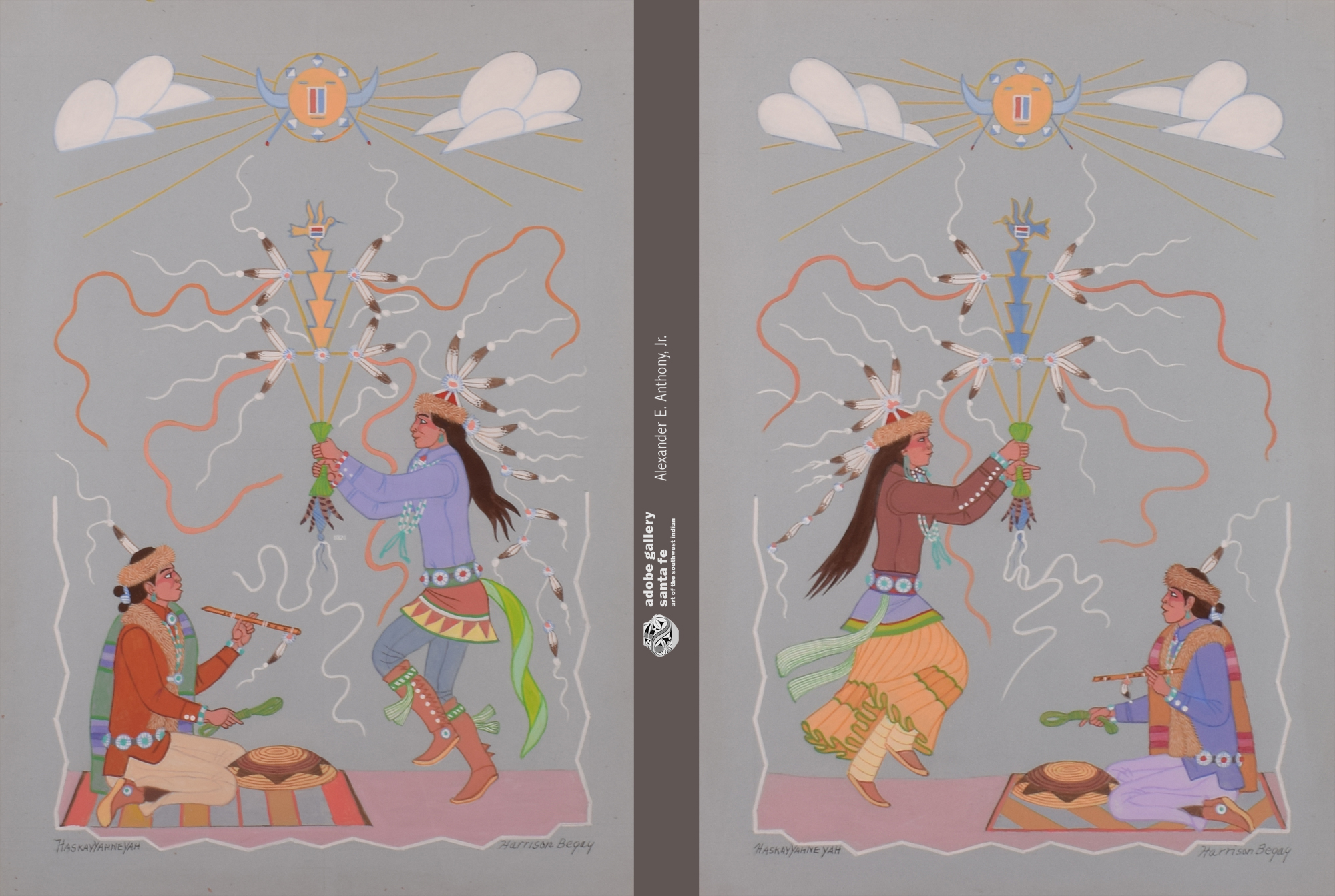 Click on image to view larger.
---
Adobe Gallery Recommended Reading