Akimel O'odham, Pima
+Add origin to My Preferences
Southwest Indian Akimel O'odham (Pima) Baskets and Fine Art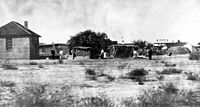 The Akimel O'odham (Pima) River People of Arizona were major basket makers in the late 19th century, primarily making pieces for their own use. At the turn of the century, basket weaving was being practiced in every home. This continued into the early 20th century, at which time Southwest Indian basketry became a collectible commodity. The problem was that the collectors and dealers only paid $1.00 to $3.00 for a basket. The women soon realized that it was not practical to spend weeks making a basket when they could pick cotton and earn $2.00 a day. By the 1920s, basket weaving all but disappeared. By 1960, they were not even making baskets for their own use. They had, by then, substituted commercially made pots and pans for utilitarian use.
The utilitarian shapes they made for use included trays, bowls, jars, and a few miscellaneous forms. The trays were the graceful forms and could be shallow or deep. The bowls were deep and large in most cases, but occasionally might be smaller. Jars ranged from large storage vessels to small sizes for trinkets. Among miscellaneous forms that were not too abundantly made were cups, plaques, wastebaskets, footed pieces, and miniatures.
Reference: Indian Baskets of the Southwest by Clara Lee Tanner, University of Arizona Press, Tucson, 1983.
Photo of Pima house source: Public domain.