Mescalero Apache
+Add origin to My Preferences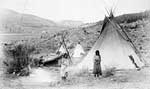 Mescalero (or Mescalero Apache) is an Apache tribe of Southern Athabaskan Native Americans. The tribe is federally recognized as the Mescalero Apache Tribe of the Mescalero Apache Reservation in southcentral New Mexico. In the nineteenth century, the Mescalero opened their reservation to other Apache bands, such as the Chiricahua who had been imprisoned in Florida, and the Lipan Apache.
Originally established on May 27, 1873, by Executive Order of President Ulysses S. Grant, the reservation was first located near Fort Stanton. The present reservation was established in 1883. It has a land area of 1,862.463 km² (719.101 sq mi), almost entirely in Otero County. The 463,000 acre reservation lies on the eastern flank of the Sacramento Mountains and borders the Lincoln National Forest. A small unpopulated section is in Lincoln County just southwest of the city of Ruidoso. U.S. Route 70 is the major highway through the reservation.

Ranching and tourism are major sources of income for the tribe. The mountains and foothills are forested with pines; resource and commercial development is managed carefully by the Mescalero Apache Tribal Council. The Mescalero Apache developed a cultural center near the tribal headquarters on U.S. Route 70 in the reservation's largest community of Mescalero. On display, is important historical information and artifacts of the tribe. The tribe has another, larger museum on the western flank of the Sacramento Mountains in Dog Canyon, south of Alamogordo.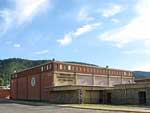 The tribe developed and owns the Inn of the Mountain Gods Resort and Casino ("IMG"). As part of the IMG operation, the tribe also owns and manages Ski Apache the southernmost major ski area in North America. In January 2012 Ski Apache celebrated its 50th anniversary.

The ski area is situated adjacent to the massive peak of Sierra Blanca a 12,003-foot (3,659 m) mountain. It is the southernmost alpine peak in the Continental United States over 12,000 feet in elevation, and is part of the Rocky Mountains and the Sacramento Mountains. Sierra Blanca peak, located on the reservation, is sacred ground for the Mescalero Apache Tribe and requires a permit for access. Read more..